It has been revealed that Spike Lee is to direct a musical about the impotence medication Viagra. The Entertainment One film is based on David Kushner's Esquire article titled "All Rise: The Untold Story of the Guys Who Launched Viagra", which chronicled the discovery and marketing of the drug.
Lee is co-writing the script with British playwright Kwame Kwei-Armah current artistic director of the Young Vic, and the music is by songwriters Stew Stewart and Heidi Rodewald (who previously collaborated on the stage Tony-winning musical Passing Strange, filmed by Lee in 2008).
Click here to read more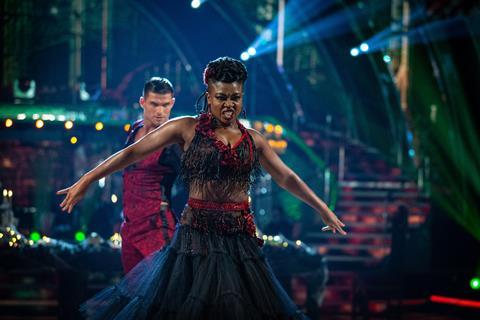 Jacqueline Baker co-founder of B:Inclusive Task Force has urged broadcasters to act on diversity immediately rather than waiting for data monitoring to improve.
Using last week's DCMS Committee (DCMSC) session on the future of PSB, Jacqueline Baker has called for a more proactive approach to hiring people from under-represented backgrounds.
"When recruiting for a production you can say 'Do you have a black series producer or a black PD?'," says Jacqueline Baker.
"No-one is stopping anyone from asking those questions. You don't need data to look at a picture of a production's crew and notice there isn't a person of colour beyond the runner."
A string of diversity measures are due to come into force next year including the BBC requiring all shows to achieve 20% Black, Asian and minority ethnic, disabled and working class representation behind-the-camera.
(click on the image above to read full article)
The British Urban Film Festival (BUFF) has set BAFTA Chair Krishnendu Majumdar and BAFTA Film Committee Chair Marc Samuelson for a 90-minute 'in conversation' session at this year's festival, which will be taking place online and later than usual as a result of the coronavirus lockdown.
The pre-recorded Q&A, titled The Changing Faces of BAFTA, will be moderated by Emmanuel Anyiam-Osigwe and streamed via the festival's website next month.
Viewers can submit questions in advance of the Zoom session via the BUFF Facebook page.
Actor and producer Femi Oyeniran will once again helm the annual BUFF awards ceremony. The festival's full program is due to be announced in coming weeks.
(click on the image above to read full article)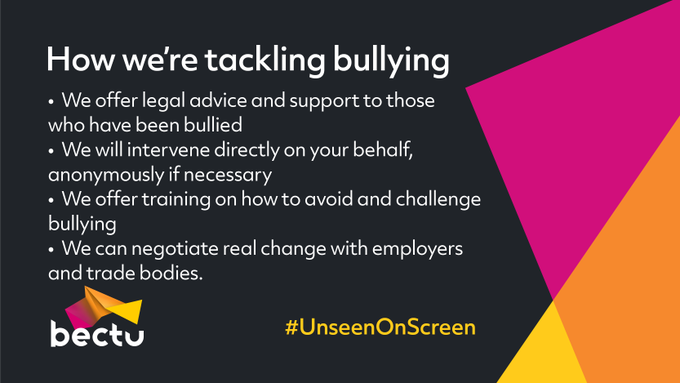 For last week's anti-bullying week (16th-22nd Nov), broadcasting union Bectu prioritised the issue of bullying in the industry by starting #UnseenOnScreen a bullying and harassment campaign, where people have been sharing anonymous stories about abuse in the workplace.
Freelance producer and Bectu rep, Meriel Beale, is leading efforts to tackle this. Following her election in October, Bectu has collated more than 50 testimonials from workers.
Click on the image to read Broadcast article on snapshot of five of the most shocking incidents.
If you are being bullied you can join Bectu union who can offer you support by clicking here
You can also contact the following numbers for free support:
The Film & TV Charity: 0800 054 0000
Samaritans: 116 123
Shout: 85258 (text)
Anxiety UK (official): 03444 775 774